The palmette (gol-e eslīmī, lit. "patterned" or "arabesque flower") is one of the most popular Persian rug decorations, and you will find it included in many rug designs regardless the country of origin.
A palmette is a freely conventionalized motif resembling a flower without being a copy of any floral species. In ancient Oriental art we find two kinds of palmettes, one derived from the lotus and the other from the palm tree. The former (fig. I), a product of Egyptian art, consists of a calyx, two volutes, and a half rosette. The second form (fig. 6), created by Assyrian art, shows two spiral volutes and several symmetrically arranged leaves suggesting the palm, which had a symbolic meaning as a sacred tree. - ref. Palmettes in Near Eastern Rugs, Metropolitan Museum of Art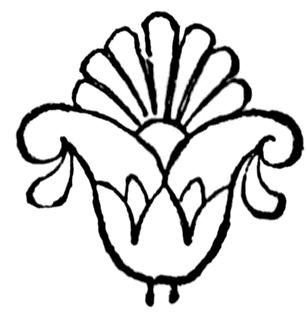 In the most frequent type of palmette border the motif faces alternately inward and outward and is flanked by arabesques.
We can see a clear evolution of the design and its latest stage of evolution as it appears in 19th century Caucasian Lenkoran rugs above.  
Above: Ivory Plaque with a Griffin Eating a Palmette in the Metropolitan Museum of Art, The palemtte has a far-reaching history, originating in Ancient Egypt with a subsequent development through the art of most of Eurasia, often in forms that bear relatively little resemblance to the original.
Above: Bricks with a Palmette Motif in the Metropolitan Museum of Art,
Other palmettes in Lori Pambak, Bijarand Shield Kuba or Shirvan rugs (above) which may also be related to the "Italian palmette" but here the connections are less clear. It has been used  primarily in floral style, including Tabriz, Qom, Isfahan, and Kirman rugs. In Ancient Greek and Ancient Roman uses it is also known as the anthemion (from the Greek ανθέμιον, a flower).
The transitional area rug above captures the essence of the lotus palmette in a contemporary modern way. Today, the palmette is "updated" for decoration in Transitional area rugs designed for the contemporary and modern decor styles. 
You can see all the different ways this design motif can be rendered, all depending on the aesthetics of the culture in which it was woven (knotted) and the weaver him or herself. Below is a fresh take on traditional designs for those wanting a fresher interpretation of these classics. 
If you liked this post, please comment and/or share it with others by using one of the buttons below. And, please LIKE us on Facebook and follow us on Twitter.